Space Saving Staircase Designs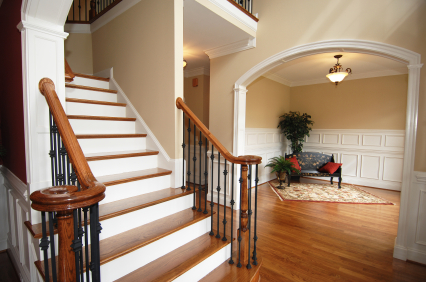 As well as providing a practical function, staircase designs can also look great and bring a certain style into your home. Whilst the standard staircase is fine for some houses, it is less than ideal for smaller houses, or those with loft conversions. Finding one to fit such small spaces can prove somewhat of a headache. However, there is no doubt that they are most definitely needed in the household; they just unfortunately seem to take up so much valuable space that could be used for other things.
For those of you who can relate to this dilemma, space saving staircases can relieve your headache. With a selection of staircase designs to choose from, they can provide you with a more practical alternative to the ordinary staircase and free you from the hassle of using dangerous steep ladders to reach your attic every time you need something.
So we've compiled a list of space saving stairs and some of their advantages and disadvantages to help you decide which one is right for you and your home:
Ship's Ladder
The ship's ladder is a rather modern staircase choice and is perfect for saving space. This is due to their steepness which saves a lot of floor space, but despite this they're still not as steep as ordinary ladders, so provide a safer option.
Because of their sheer steepness, they require a handrail in order to ensure safety at all times when climbing and descending the staircase.
Spiral Ladder Staircase
This chic and modern staircase is great for leading up to loft conversions. They offer a more visually pleasing alternative to a solid staircase, as you still have full visibility of the room making it look and feel more spacious.
The downside to the spiral ladder is how narrow the steps can sometimes be, which at times can prove difficult when walking up or down so require a little more caution. Walking in the wider part of the stair is best for safety, and a handrail is again a must have.
Alternating Step Stairs
Alternating step stairs are very similar to ship's ladders in the respect that they can be rather steep. The steps are placed in alternating places; one positioned to the left, the next to the right (as in the image below) so this can make them easier to climb than the conventional ladder. They can also look rather quirky and edgy, so fit nicely with a modern interior.
 Storage Stairs
Storage stairs are the ultimate space saver for any home. They take the traditional 'cupboard under the stairs' notion and enhance it to create a modern, space saving alternative to the everyday staircase. They are ideal for storing household items, such as books, DVDs, ornaments and any general bits and bobs.
The downside to them is that they take up more space than the ships ladder or the spiral staircase for instance, but on the flip side, they provide household storage which the others don't.
The one thing all these staircases have to offer is their overall ability to save on space. They ultimately provide you with a much larger and comfortable living space, whilst bringing a touch of modern interior into your home.
 For more information about staircases that are suitable for loft conversions, please get in touch with NK Lofts today.